HOW TO CREATE A CONNECTION BETWEEN TWO ENTITIES (1D OR 2D MEMBERS)?
Elements which touch in nodes are connect automatically. This connection is rigid (always the first example in a row in figure 2).
If the user would like to use a different connection see FAQ ESA1103 What is the stiffness of the connection between two entities?
In this article, we will show you how to connect elements which don't touch directly in nodes. Such a connection of the element is characterized by red lines. In versions before SCIA Engineer 19.0, the user had to link members manually using the commands:
Structure > Model data > Connect members / nodes
Calculation, mesh > Connect members / nodes
Modify > Connect members / nodes
In SCIA Engineer 19.0 and later, the structure is linked automatically during the calculation. If the user doesn't want to connect the structure, it is necessary to disable the option Connect members / nodes in the calculation dialog (figure 1).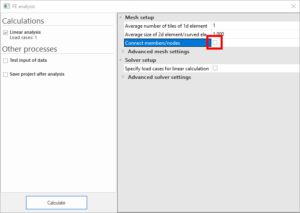 Figure 1: Calculation dialog.
All the possibilities of connection are mentioned below – the created connections are rigid, and are shown by means of red lines.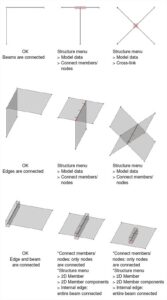 Figure 2: Possibilities of connection.